Say goodbye to ancient, one-trick pony printers and say hello to the next generation of printers that encompass all of your office functionality in one device. The modern printer is a multifunctional tool that delivers a myriad of services to increase your office productivity. Today's multifunction printer (MFP) is not limited to just printing, but instead it is capable of scanning, faxing, printing and more to consolidate your office workflows to just one machine.
The newest generation of MFPs even support apps that improve security, provide language translation and more to free your workers for other tasks. Learn how one piece of office equipment can support and help grow your business in an increasingly deadline-driven work environment.
Here are 5 reasons why a multifunction printer is vital for your business.
1. Increase Efficiency
Think of your printer as a member of your team. Your printer is a cog in the wheel of the workflow process that you need to run as smoothly as possible without any hiccups. Not only will an MFP print more quickly than your standard printer, but it will also allow you to perform multiple office functionalities with one machine, allowing you to save time and boost your company's productivity.
2. Enhance The User Experience
People depend on printers at work every day, so all interactions with your printer should be as user-friendly as possible. This means that every feature of your printer should be intuitive so that it is easy and straightforward to use. This also means that if any issues arise with the printer, that the user can be easily guided as to how to fix the problem and continue with business as usual.
3. Save Time
An improved user experience ultimately saves you time and money by making each phase of the printing process as simple and painless as possible. According to Xerox, the average worker in the U.S. with a shared central printer spends three minutes waiting for a print job. This might not sound like much, but that adds up to 13 hours a year!
4. Customize Your Device
Easily personalize the interface for each MFP user. Each user has the ability to manage their print jobs and create a customized experience that works for them. Users can quickly access documents they need to print, scan or fax from cloud services like Dropbox, Google Drive or OneDrive. They can even connect to your MFP from all devices with the latest mobile technologies.
5. Improve Customer Service
MFPs allow customers to be delivered forms, contracts, proposals etc. on the spot at the point of service or contact. For instance, a statement of work could be generated online, printed out during a meeting for a client's signature and then scanned back into the system. This is the functionality of three devices being replaced by the use of one machine to expedite your workflow and ultimately improve your customer service.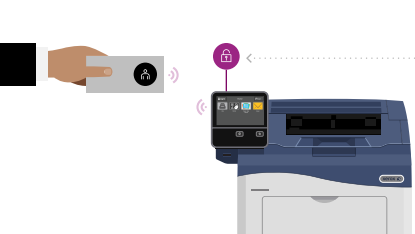 Catapult your business into the digital age with the latest generation MFP. Not only will you be cutting costs, streamlining operations and increasing your office efficiency, but you will have the added bonus of creating more physical space in your office by shrinking the size of your print corner. One MFP will replace the need for three separate machines. The upgraded functionality of your printer will cause a ripple effect that ultimately results in better business and faster service for your customers.
Need to upgrade your printer? Let us help!
If your printer is slowing down the productivity of your office or you have simply outgrown the functionality of your current printer, then check out these MFP options. If you need help figuring out what MFP would best suit your business functionality, then please contact us and we can help you choose the best option tailored to your specific office needs. We look forward to helping you choose a printer that will play a crucial role in enhancing the performance of your business.