PaperCut Software 20.0 is here

Healthcare – Epic Integration
Patient Records are more secure with PaperCut MF.
With new Epic compliance and further Cerner support, hospitals and healthcare providers now have strong print management features like secure printing, Find-me printing and print log tracking…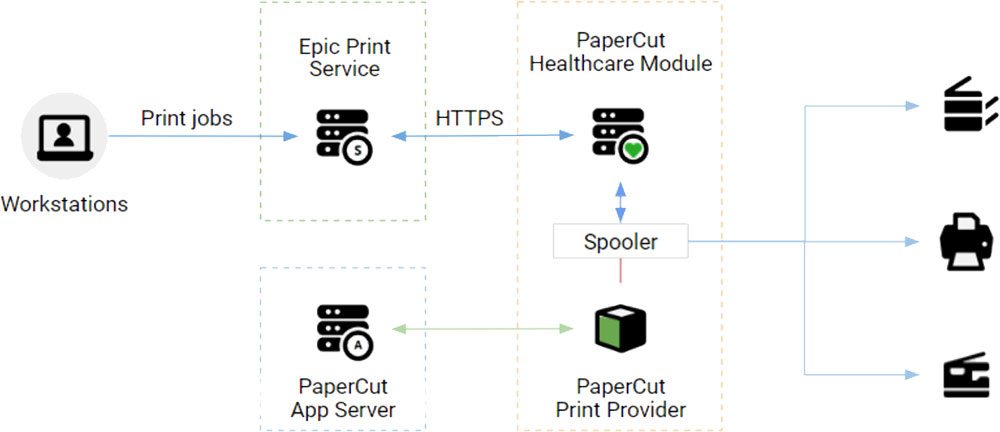 Cloud Print*

Mobility Print harnesses PaperCut's cloud service to keep users printing when they're outside your network, or on an untrusted guest network.
Printing is lightning-fast: print jobs stay local when possible, and only sent via the internet when users are not connected to the local network.
Printing is secure: Print jobs and metadata are sent via an encrypted peer-to-peer connection.
*For Chromebooks only. Other platforms to follow. Available via auto update
Application Server High Availability
We're bolstering our in-app resilience with automatic failover functionality.
Harness the power of your existing network load balancer along with our new in-app High Availability solution to make sure your PaperCut Application Server is protected.
Take control of your MFDs
Create powerful scripts to cut costs, improve copying, and change the way people use MFDs for the better.
Device Scripting brings the power of print scripting to the MFD for better copying, flexible pricing, and more.
Create your own or use our template "recipes" to do everything from limiting color copying to restricting shared account selection.
In version 20.0 we've added support for additional MFD platforms.
Default duplex and grayscale settings
For customers who want to further reduce print costs and their environmental impact.
Simply set a config key for each (Duplex, Greyscale), and the checkboxes will already be ticked for users when they log in to the device.


What is PaperCut Software?

PaperCut is a powerful print management solution to enable, track, manage, and secure your printing, copying and scanning. Watch the video below for a brief introduction to PaperCut MF.