Reduce the design timeline and improve collaboration for better decision making with Repro Products' Data Management and Autodesk® Vault® Implementation services.
Improve your bottom line with Data Management and organize, manage and track data creation and documentation processes for design, engineering and extended teams.  Get more control over design data with revision management capabilities and quickly find and reuse design data for easier management of your design information.
Repro Products' Data Management and Vault Implementation services offer in-house capability for all phases of the project from database integration, legacy data migration, paper document scanning and data indexing through installation and configuration and training.  Our offering is flexible to provide the amount of support your team requires, enabling you to absorb as much (or as little) of the process as your resources can handle.  Or, you can turn the entire Implementation over to Repro Products with the confidence that our seasoned and experienced engineering document specialists and Autodesk-certified Application Engineers will provide a successful Vault Implementation for your team.
Click below to see the article published by Repro Products' Vault Technical Expert, Dan Williams on What's New in Vault 2022.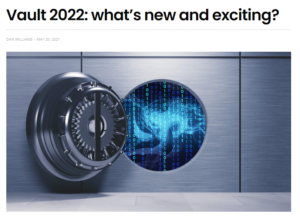 With Autodesk Data Management and Vault 2022 you can:
Easily create, organize and share design information and manage all project and product data in any file format
Automatically track evolution and important milestones for a complete record while retaining ability to revert to previous designs at any time
Communicate and share data with easy-to-understand visuals
Secure and control data access and help prevent unwanted changes to design milestones
Easily manipulate data, prevent broken links and save time with automatic file reference management and automated file-naming tools
Improve efficiency of the design process and facilitate collaboration
What's New In Vault 2022
Vault 2022 product data management (PDM) software helps you manage your design and engineering data, improve collaboration, and take control of your product development processes.
Duplicate search: Compares 3D shapes in your extensive database for fast results and duplicates reduction.
Unused document detection: Vault detects and cleans up unused files that are no longer relevant. Prevents unused files from being released.
More flexibility: Greater flexibility and control over access with more options for version and retrieval permission settings.
Focus on the work you love: Vault 2022 unlocks more design data by delivering a better-integrated data experience and BOM variants management. This keeps you better connected to your design data while working inside CAD, so you can spend more time getting your work done.
Optimize deployments and better manage teams:  Vault 2022 offers Authentication options, replication, and enhanced user and group management. Now you can optimize deployments and manage your teams more efficiently.
Access and work with engineering data anywhere: Whether with the Vault mobile app, or the new browser experience, you will enjoy connection to real-time data. Take your design data with you onto the shop floor, on-site, or out to meet your customer—and keep your work moving wherever you are.
For more new features in Vault 2022, click here for original article.
Vault 2022: More Value for Subscribers
Productivity for CAD users: Supports Inventor and Revit interoperability and adds significant workflow and usability improvements.
Smart Duplicate Reduction: Compares 3D shapes and delivers insights on duplicate content.
More Efficiency for Administrators: Allows more granularity within the security model and minimizes deployment and maintenance downtime.

Vault Informational Resources
---

DATA MANAGEMENT CAN BE CHALLENGING… BUT WE'VE GOT YOUR BACK
Managing your data properly can become a gargantuan undertaking; you must gather, scan, categorize, index, archive, promote standards, track endless revisions and ensure it's all easily accessible. Moreover, you face steep implementation hurdles when selecting the right software – such as deciding which software best manages your data, training your talent to full proficiency, onboarding new seats and ongoing support. This technological road map can be daunting. Where to turn?
CONTACT THE VAULT EXPERTS AT REPRO PRODUCTS
Fortunately, Repro Products enjoys an Autodesk Authorized Training Center in our Smyrna Headquarters and a mobile lab that enables us to bring training to your location. This makes us uniquely equipped to ease you through the process of software selection, training and support. Contact us today at softwaresupport@reproproducts.com and put Vault to work for you, or click on the training calendar image below to view our regularly scheduled classes.
We've got this.