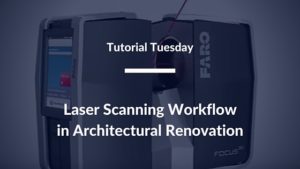 In today's Tutorial Tuesday, our Application Engineer, Zoltan Ferenczy walks us through utilizing FARO Focus3D X 330 HDR laser scanning technology in an Architectural Renovation. See the video tutorial below and tell us what you think.
Learn More
Register for our free live webinar discussing the benefits of 3D Laser Scanning in the BIM workflow

This webinar will cover:
Understanding of BIM and Integrated Project Delivery Processes
Overview of 3D Data Capture Process Using Laser Scanner 
Using 3D Data in the Design Process
3

D Laser Scanning Services
Repro Products' 3D laser scanning services enable clients to add, modify, validate and document their design process in context from existing environments. Click here to learn more about our
Laser Scanning Services
.
Need More?