Repro Products, Inc. is proud to be a continued supporter of the Orange Duffel Bag Initiative. 
Georgia has 35,000 certified homeless students in its public schools – 3,000 of whom are juniors and seniors, struggling each day to graduate from high school. There is very little support for these students, homeless through no fault of their own, to access and complete college….in steps the Orange Duffel Bag Initiative.
ODB provides a coaching solution and ongoing advocacy to help these students overcome personal and academic barriers. ODB conducts a 12-week after school program for high school and college students who are at risk for not completing their secondary and post-secondary education. Repro Products played an instrumental role in helping ODB reach a major milestone of 1,000 graduates through the initiative.
Repro Products is very passionate about our work with ODB and has sponsored several events over the years. Proceeds from the events  have directly benefited the high school and college students who are homeless, aging out of foster care, or experiencing extreme poverty in our local community.
The goal of the initiative is to create community partnerships and achieve collective impact for positive systemic change and measurable results on behalf of our nation's most vulnerable students.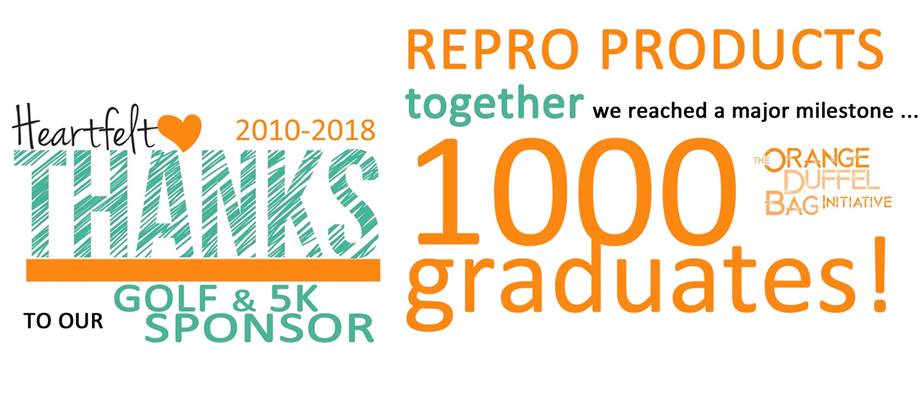 What is the Orange Duffel Bag Initiative?
The Orange Duffel Bag Initiative is a non-profit organization that provides at-risk teens and young adults with programs proven to improve their education, success, ongoing advocacy, support to their guardians and caring adults, and service to the community in a spirit of offering hope and positive systemic change.
If you would like to get involved with the Orange Duffel Bag Initiative you can click here to learn more or click the button below to donate to this great cause.