The largest gain in popularity can be attributed to portable CMM-based 3D scanners because of the convenience and wealth of possibilities they afford for scanning tight spaces with a high rate of accuracy when applied to conventional and non-conventional scan jobs. Portable CMM-based scanners are categorized into handheld and articulated arm CMM. Expected to grow at the highest rate in the portable CMM category are the handheld 3D scanners.Â
What is 3D Laser Scanning?
3D Laser Scanning is the process of collecting data points of physical objects using a line of laser light and transforming them into point clouds of data from the surface of said object. The scanner emits the laser light over its full field of view. When the laser light touches an object it then reflects back the light towards the scanner, sending the scanner x-y-z coordinates and information about every surrounding point allowing for a three-dimensional cloud of points to be gathered.Â

This point cloud information can be saved and rendered in various design softwares, allowing for the creation of 2D CAD renderings, and the x-y-z coordinates allow for the creation of a 3D model. 3D scanners can improve the time of production operations, while reducing costs and redundancy of projects, allowing for less time needed for project timelines and meeting deadlines which results in a more efficient and cost-effective project for every stakeholder involved.Â
Why Use 3D Laser Scanning?
There are a number of practical real-world applications for 3D Laser Scanning as it pertains to the AEC industry. 3D Laser Scanning services allow for improved Building Information Modeling (BIM) solutions, such as procuring As-Built information for better communication, eliminating the need for manual field measurements, and shortening of project lifecycles.Â

The cost of scanning services has decreased to now be competitive with manual measurement methods, thanks largely to the advancements in hardware and software solutions. Cost along with the increasing number of analytical options available thru 3D Laser Scanning is making it an increasingly attractive option to conduct detailed surveying of building structures.Â
---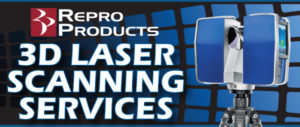 ---