Repro Products has added additional office print device manufacturers to our portfolio to ensure you get the optimal solution to meet your exacting print requirements.  We now offer Brother, HP, Kyocera, Toshiba and Xerox printers as well as Zebra label printers and HP wide format plotters.  Take a demo of any of our print equipment solutions by January 31, 2023 and we will provide you and up to two of your co-workers who attend the demo with you with $50 Amazon gift cards.  Email marketing@reproproducts.com to set up a demo with your device(s) of choice.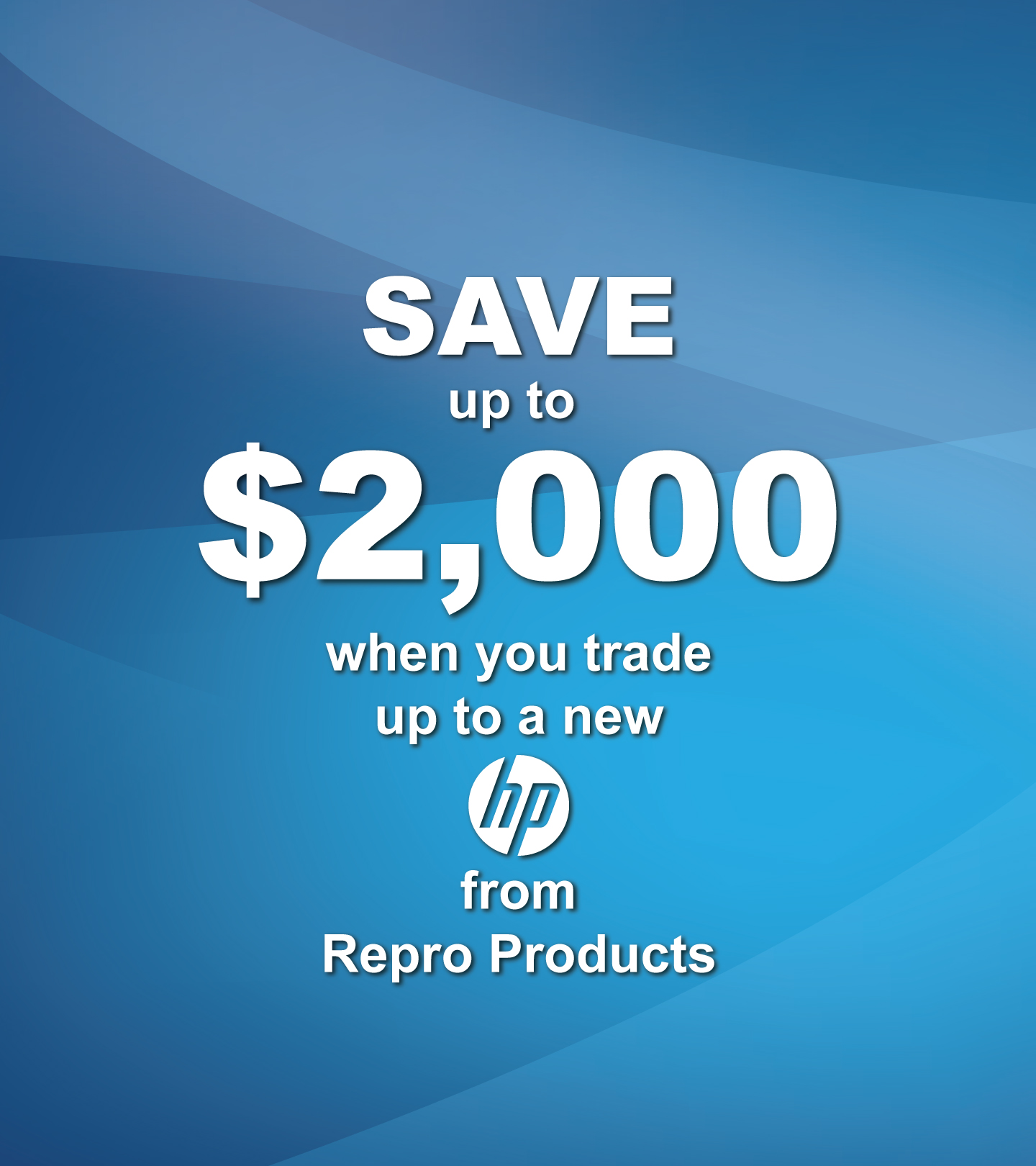 We Want Your End of Service Life HP DesignJet Printers!
Do you feel like no one (especially your staff) want your old Canon or HP DesignJet wide format inkjet printers?  Well WE want them!  Even if they aren't currently working, we will take your seasoned wide format inkjet printers and replace them with a shiny new HP.  To sweeten the deal, we will take up to $2000 off your new device (certain restrictions apply).  Find out more by emailing marketing@reproproducts.com and print faster and more efficiently in 2023.  Click here to see a list of HP DesignJet models that have reached or are approaching end-of-service life soon.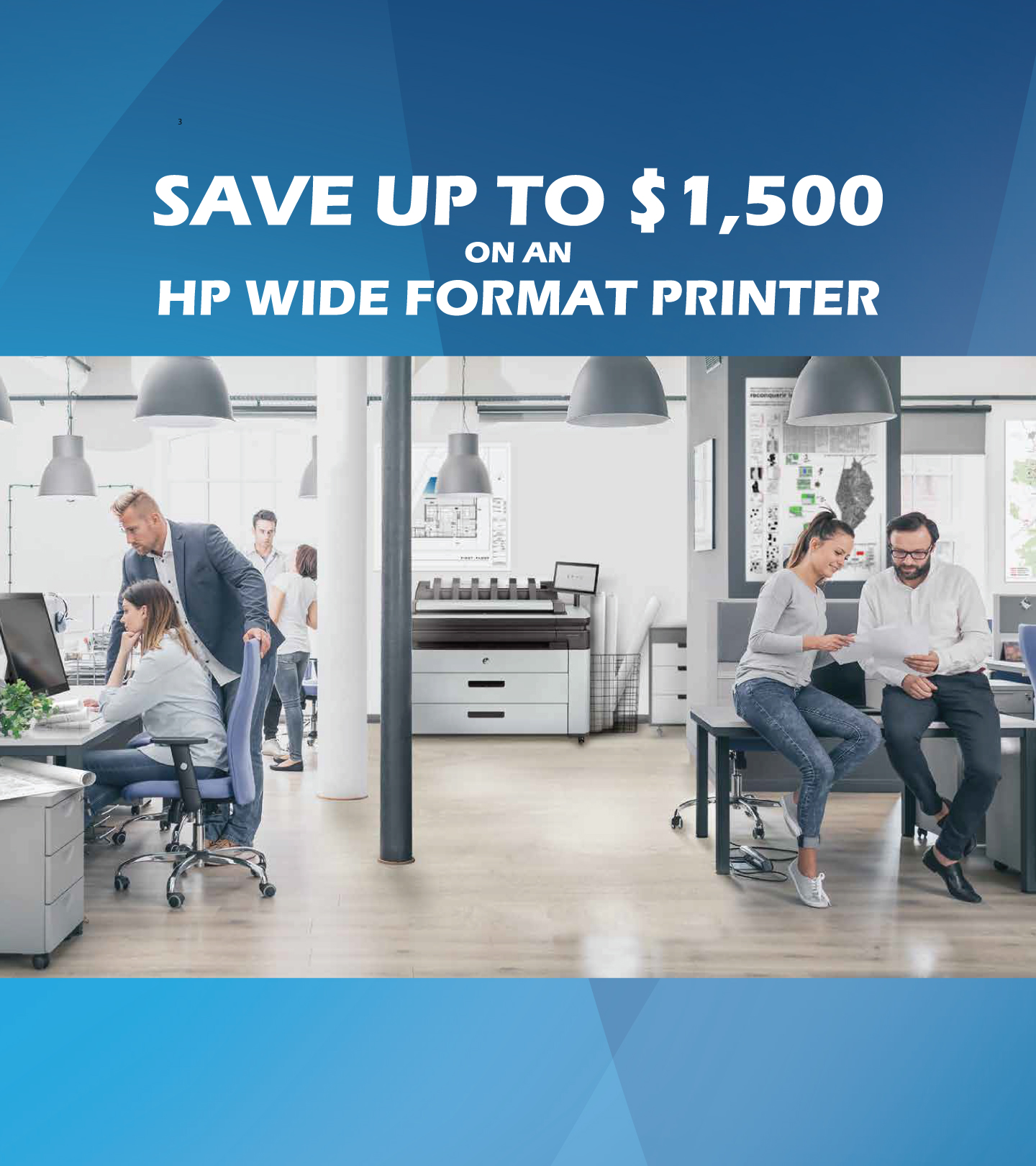 Print BIG, Save BIGGER
Upgrade to an HP DesignJet large-format printer before March 31, 2023 and get up to $1500 cash back.  This offer includes the just announced HP DesignJet Z9+ PRO 64-inch printer, as well as many other top-selling models from the HP DesignJet line, click here to learn more about the offer and email inquiry@reproproducts.com to request your demo today.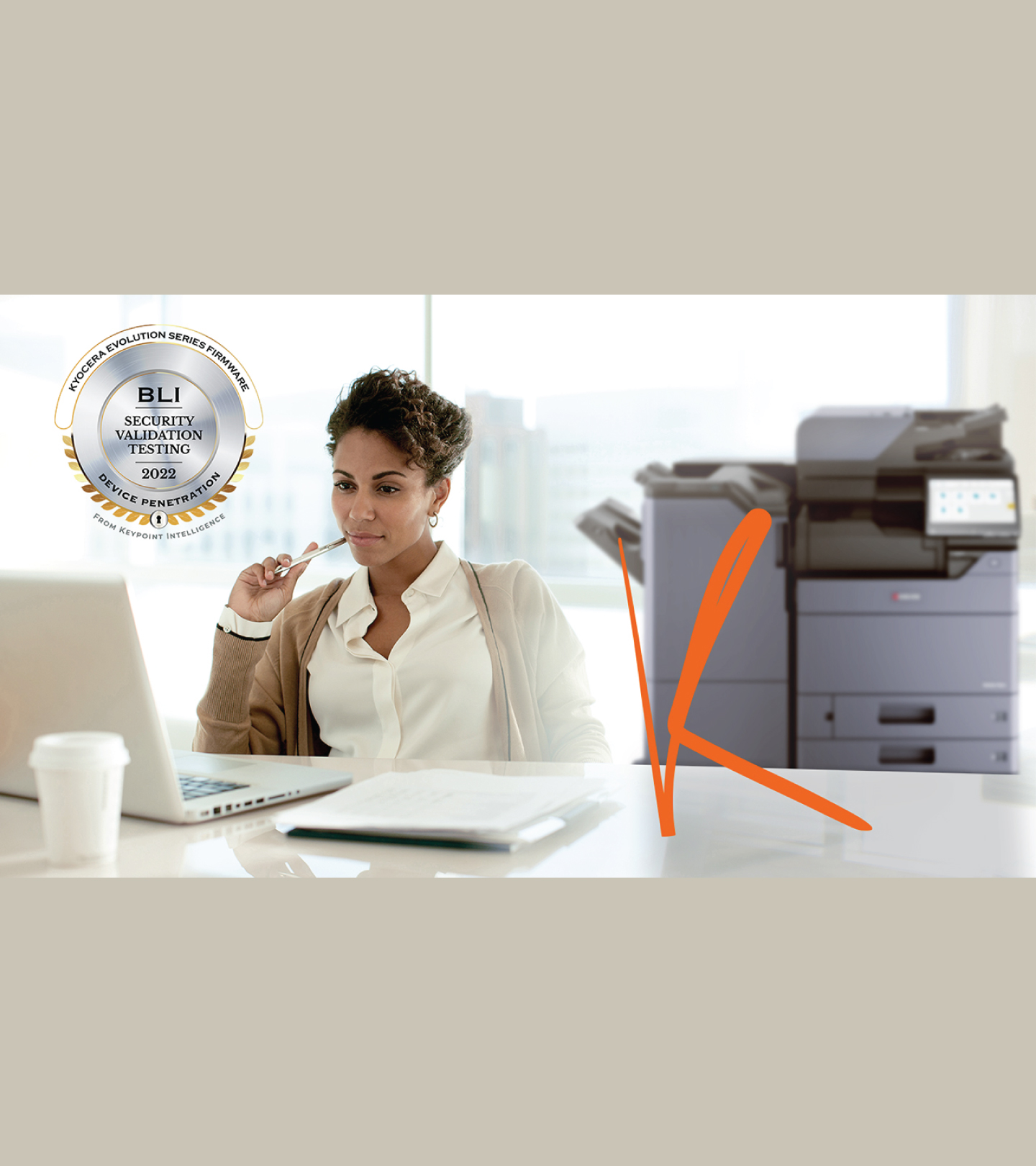 Keep Your Documents Secure with Kyocera Evolution Series
Get peace of mind this year knowing your documents are safe.  With multilayered security, Kyocera's devices keep your documents safe.  That's why Keypoint Intelligence awarded them a seal of approval.  Would you like to see Kyocera's award-winning devices in action?  Email marketing@reproproducts.com to set up your demo today.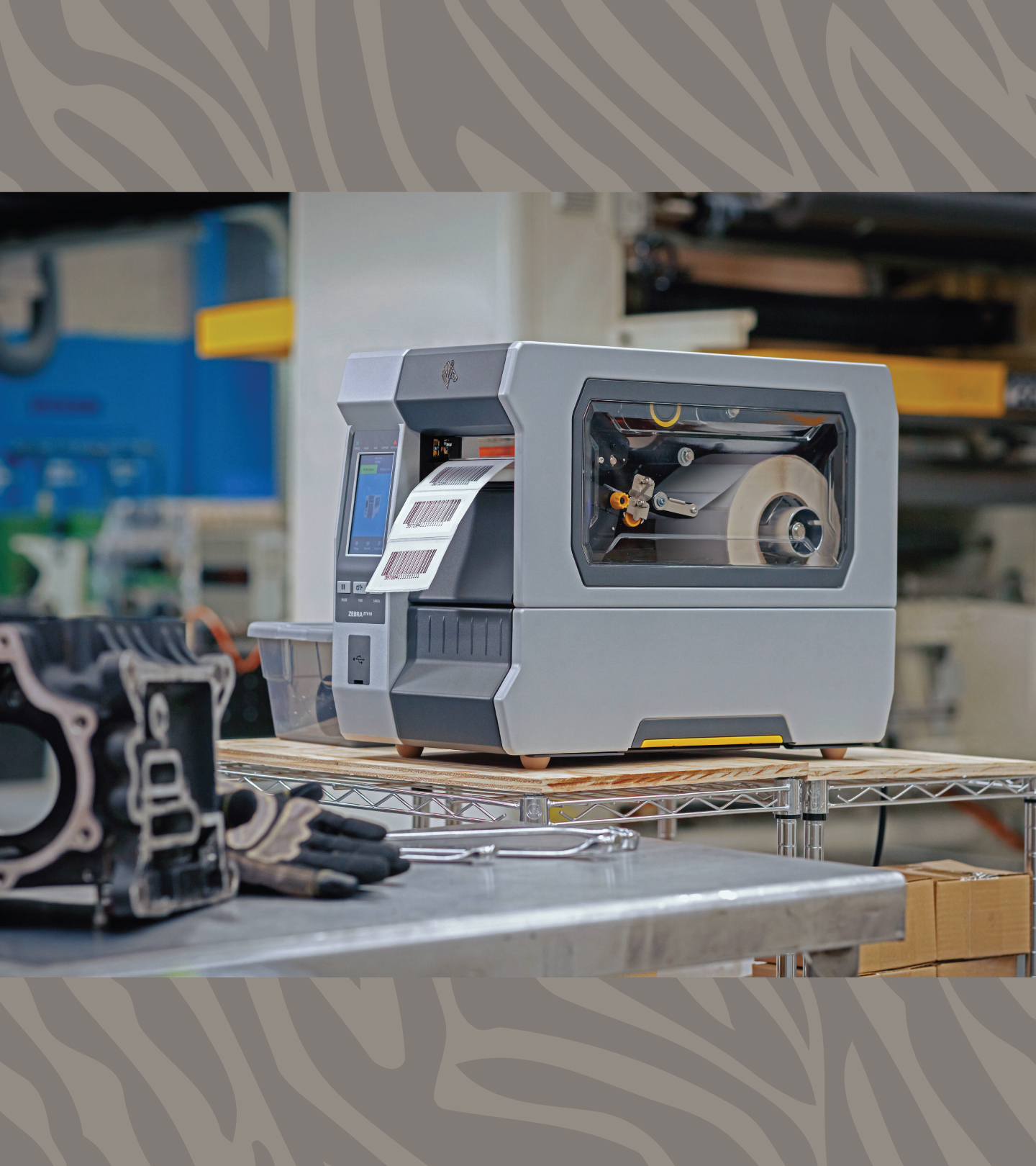 Zebra Label Printers
Zebra low-cost industrial printers offer a frustration-free label printing experience; anytime, anywhere. A label printer that works when you need it to shouldn't just be a wish – it should be a reality.  Discover the Zebra label printer that fits your application by emailing marketing@reproproducts.com.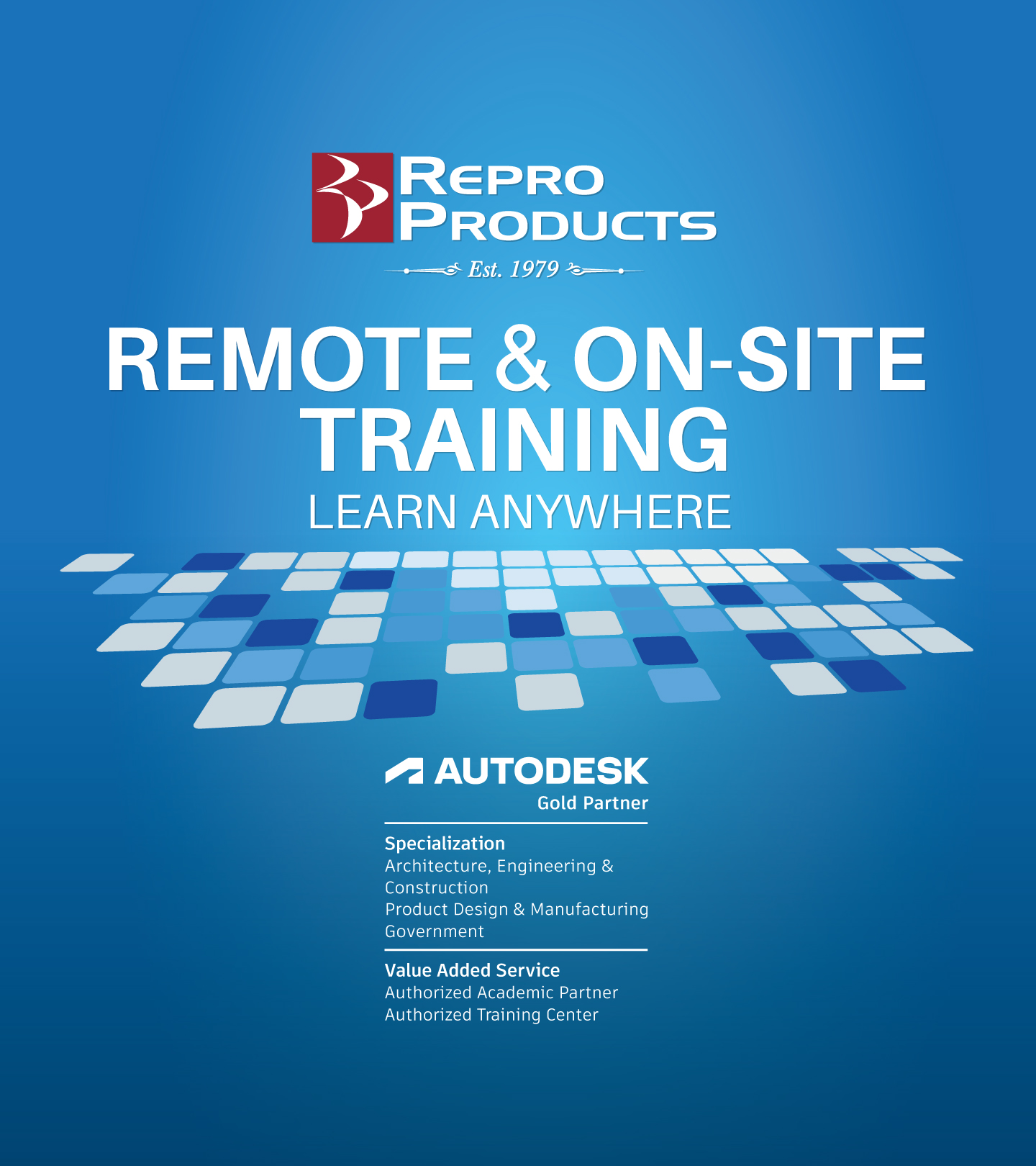 Autodesk Training
Repro Products offers flexible training options to accelerate your team's Autodesk product proficiency.  In addition to our scheduled classes, we also offer custom training at your location, online or in our Autodesk Authorized Training Center.  View our upcoming scheduled classes here which include:
East Coast Time Zone:
AutoCAD Fundamentals 2022 (1/23-1/25)
Civil 3D Fundamentals 2022 (1/30-2/2)
Revit Architecture Fundamentals 2022 (2/6-2/8)
West Coast Time Zone:
Civil 3D Fundamentals 2022 (2/13-2/16)
Email inquiry@reproproducts.com to get more information on classes or custom training.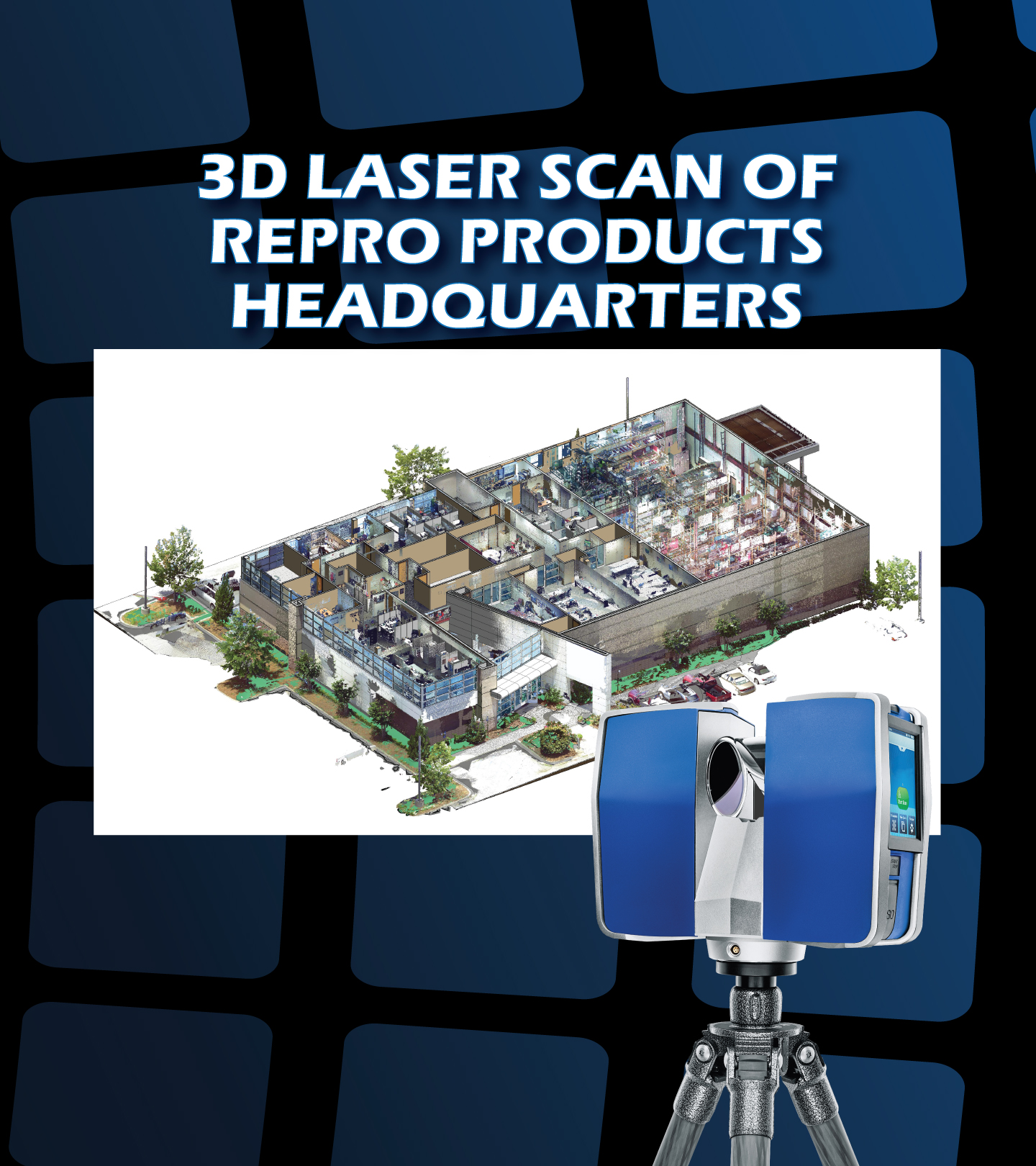 Accurate As-builts in Hours Not Weeks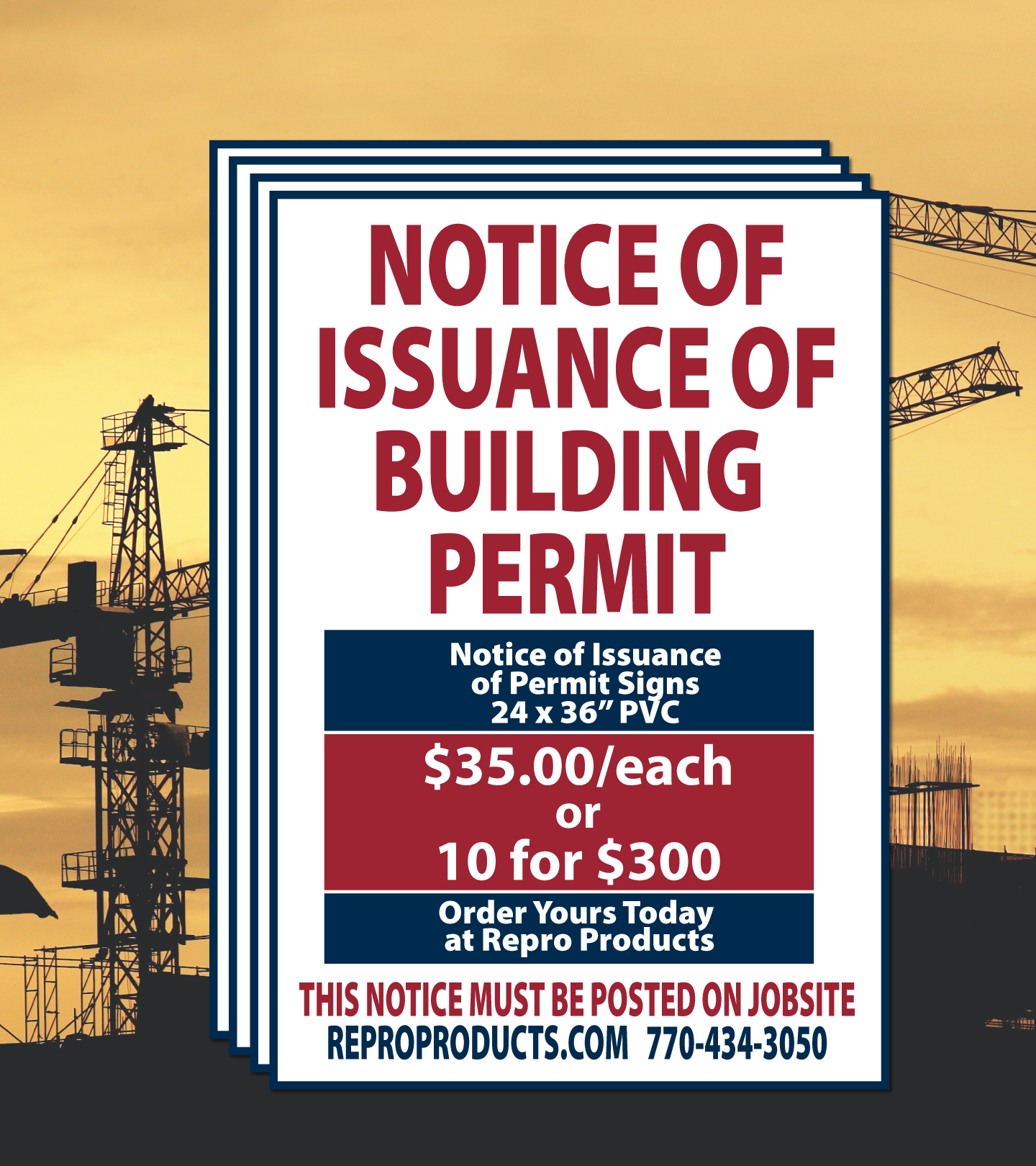 We Print it All
As your "One Stop Print Shop", have you considered sourcing your Notice of Issuance Permit signage from Repro Products?  We offer 24 x 36" PVC permit signs for only $35.00.  Reach out to digital@reproproducts.com to order your next signs from the company you trust for your print needs.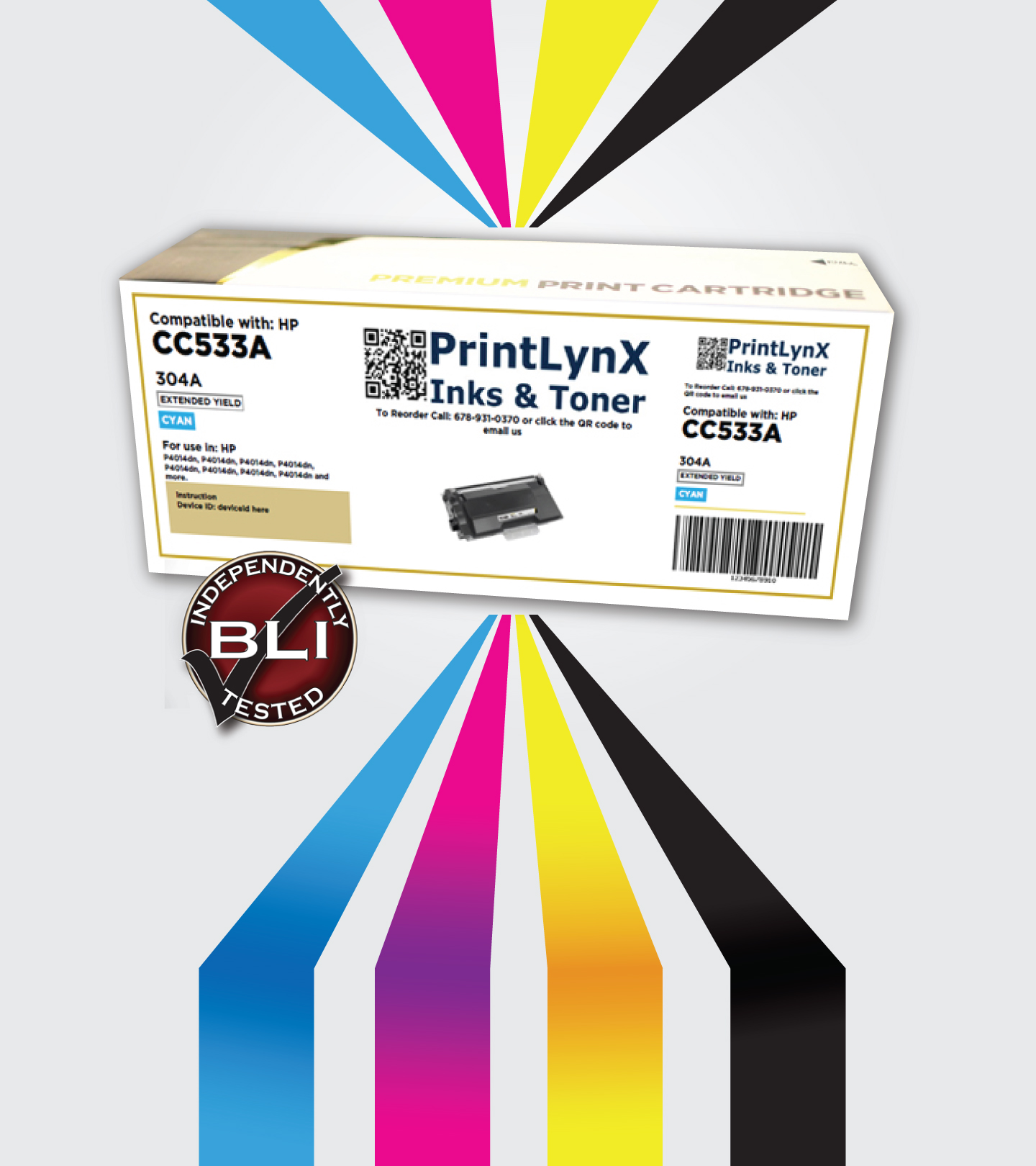 PrintLynX Inks & Toner
Repro Products now sells PrintLynX Inks and Toner.  These inks and toners are comparable quality to OEM products, but at a lower cost than OEM or remanufactured toners.  They also come with a lifetime guarantee and a no hassle return policy.  With over 450 SKUs available, contact us at 678-931-0370 or email printlynx@reproproducts.com to check the availability and pricing of inks and toners for your devices.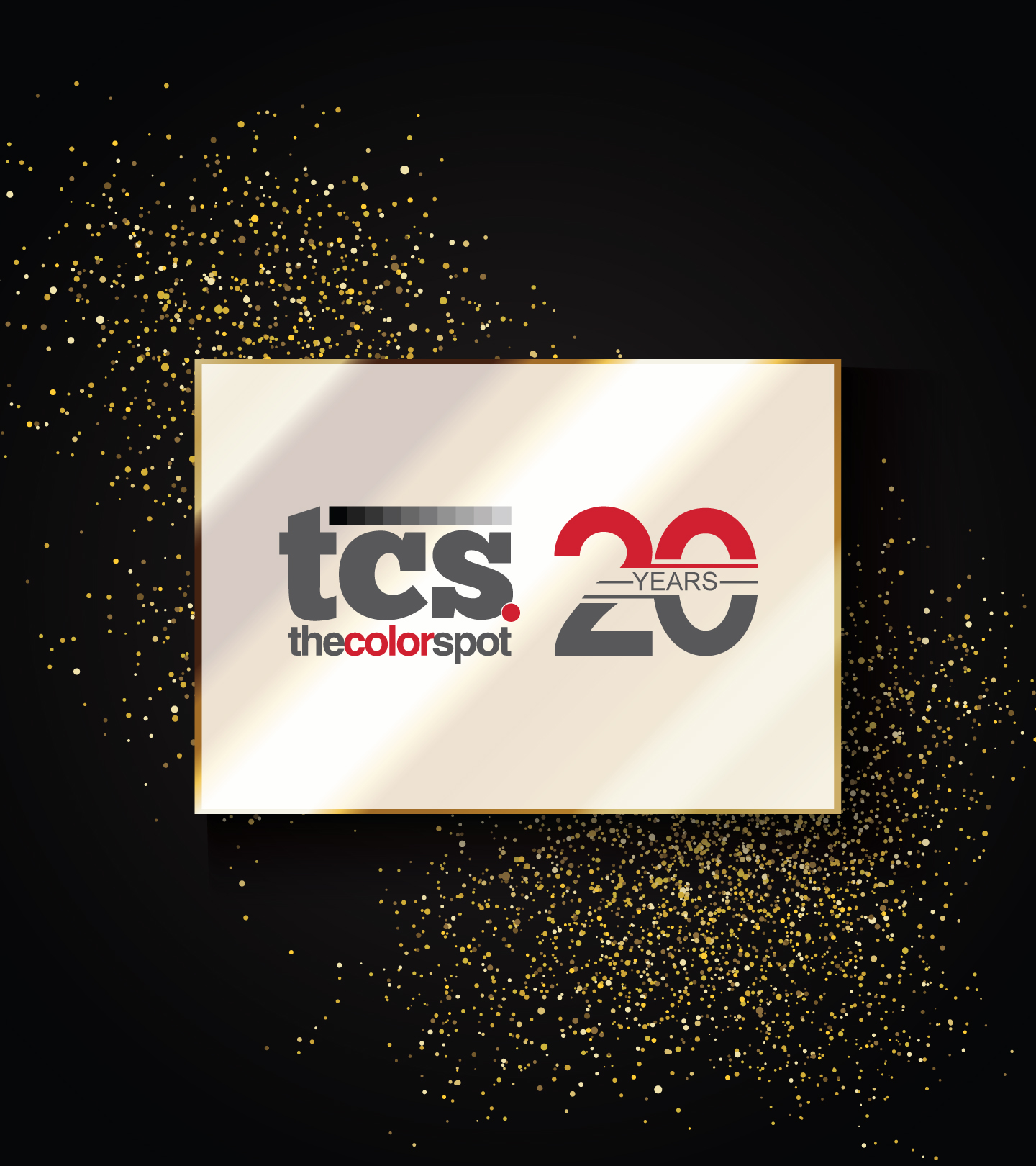 The Color Spot - 20 Years
As evidence that longevity runs in the family – Repro Products has been in business 44 years in 2023 and our sister company, The Color Spot, has been providing full-service print solutions nationwide for 20 years this year!  The Color Spot is the resource Repro Products relies upon when we have print needs that are larger than our equipment can handle.  The Color Spot specializes in vehicle wraps, tradeshow graphics, pop/store displays, signs, fine art reproductions, digital graphics and indoor/outdoor displays.  The synergy between Repro Products and The Color Spot enables us to cover the gamut of print needs regardless of size or application.  Go to tcs.ink to view some of their unique work.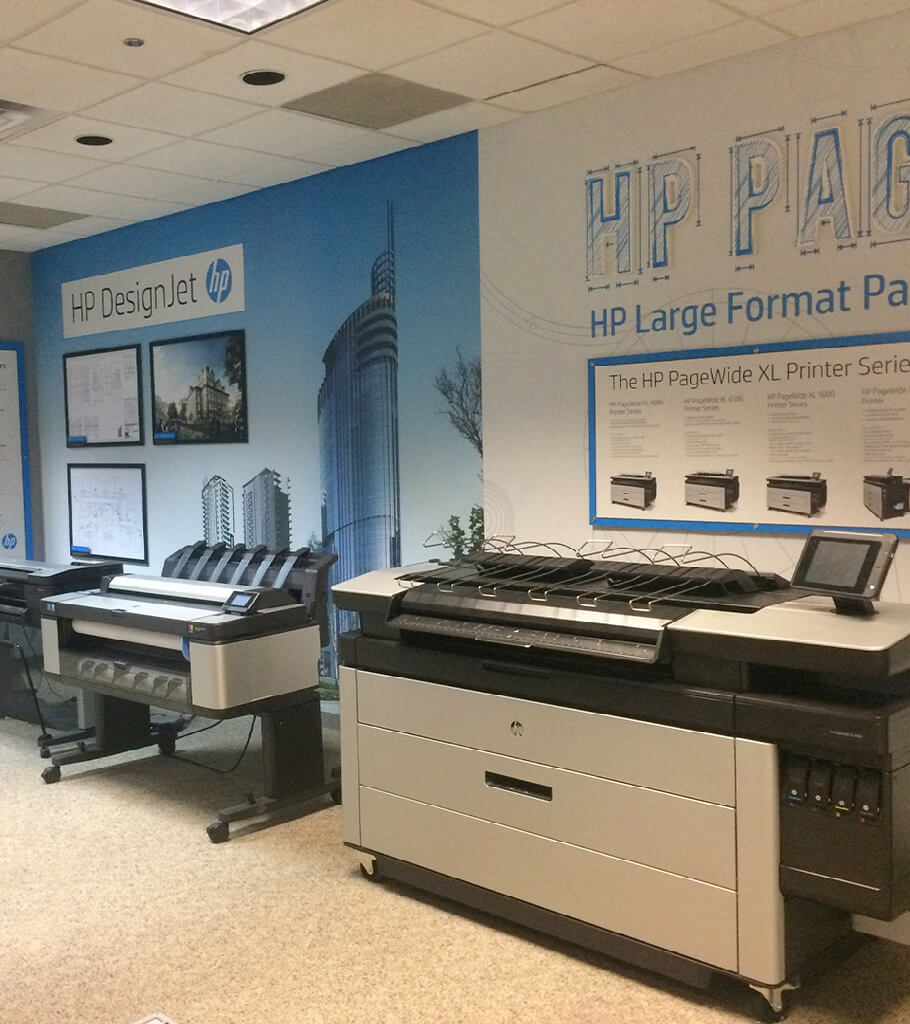 See What Customers Say About Our Service
See what our customers have to say about our Customer Service Engineers and the amazing service they provide for our Xerox and wide format equipment. Does your provider live up to these comments? If not, contact Repro Products with your next service request, just call 770-434-3050 and find out for yourself what sets our service apart from other providers.
"Service was timely and professional. General was knowledgeable and pleasant. Our issue was resolved quickly, and we are back to running full steam ahead. Thanks General and Repro Products! P.S. this was ou"
– Wadra McCullough
"It appears that we may have hit the jackpot with the last technician that came to fix our PW5000. Thank you."
– Donna Champagne
"Glenn was great.  He was patient and spent extra time helping us resolve network issues until we were able to get the copier online and printing."
– Crystal Burdette
"We got a refresher on the wide format printer and got questions answered. Exactly what we needed! Thank you!"
– Ginger Echols
How the Repro Products Family of Businesses
Supports Our Community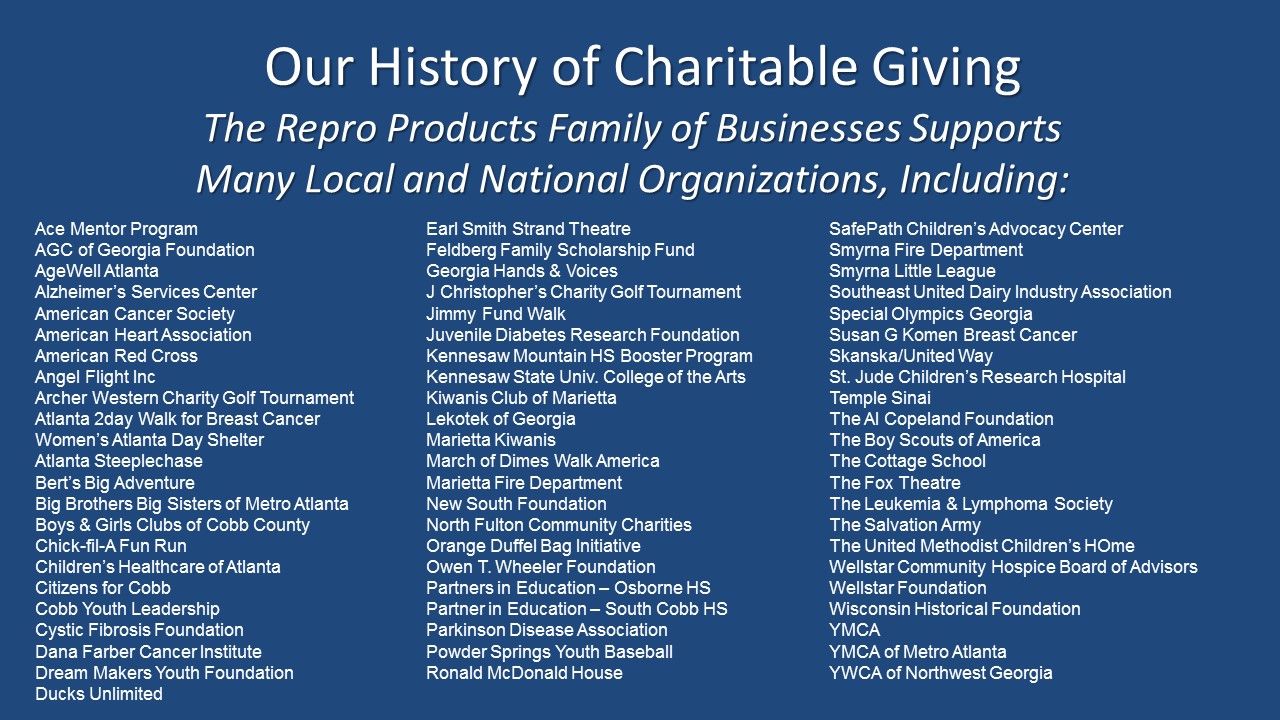 For more information on any of the products or services mentioned in this newsletter, send an email to inquiry@reproproducts.com.
© COPYRIGHT 2021 REPRO PRODUCTS. ALL RIGHTS RESERVED.