High Performance Flatbet Scanner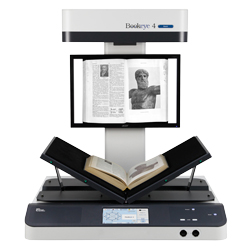 Bookeye® 4 Basic is an entry level book scanner but still full-fledged member of the Bookeye family, for use anywhere where grayscale is enough. Equipped with a standard scanning application available via the large color touchscreen, Bookeye 4 Basic scans magazines, files, folders, loose or bound documents at an optical resolution of 400 dpi at high speeds. Images can be stored to a USB disk or sent via email, uploaded to an FTP server, printed to any network or connected printer or saved on a network drive. The client interface is optional.
---
Bookeye® 4 Kiosk was designed for self-service applications. In libraries, archives and public institutions, Bookeye 4 Kiosk scans to USB, email, network, printer or a mobile device like the iPad or Android tablet using the Scan2Pad® application. The unique book cradle solution lets you digitize bound documents at 400 dpi and A2+ in size, by either lying them flat on the scanning bed or in the V-cradle, at an angle of 120 degrees. A 19 inch preview monitor lets users control image quality and make modifications on the fly.