Do you need safety apparel or illuminated decals for your construction operations? In honor of Construction Safety Week you can save BIG. For a limited time, you can log onto Safety Products Store (www.safetyproductstore.com) and enter promo code: SAFETY20 and shave a whopping 20% off of the cost of your order.
Safety Signage Printing!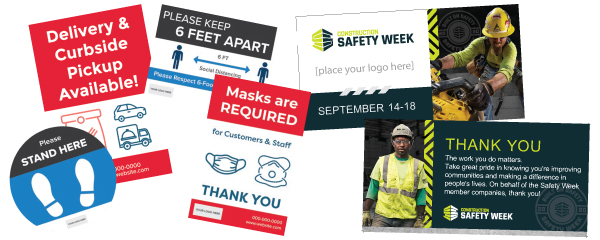 Also, Repro Products will print your Safety Week and COVID-19 signage, Email marketing@reproproducts.com for a quote.
HP PageWide XL For Safety Signage: Trade In Up To $3,500* or more!
OR, Enjoy limited-time only, unprecedented pricing on the HP PageWide XL and print your own signage! As the largest wide format reseller in Georgia, Repro Products is offering the highest trade-in offer ever — $3500 or more – when you lease or buy a HP PageWide XL by September 30, 2020. Click here to learn more about the HP PageWide XL family and see a video of the PageWide in action. To see a demo of the PageWide XL, simply email marketing@reproproducts.com.
---
If you have any further questions for us about Construction Safety Week, please call us at (866) 665-7604 or reach us at marketing@reproproducts.com.